SCOFMP & LIFC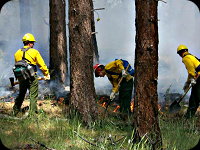 The South Central Oregon Fire Management Partnership is an interagency fire management program that provides comprehensive wildland fire service to south central Oregon and northwest Nevada.
The partnership strives to achieve a more efficient, effective and integrated interagency fire management program for all participating agencies on the land administered and protected by each agency. Dispatching is performed by the Lakeview Interagency Fire Center (LIFC).

Mission Statement
The mission for Lakeview Interagency Fire Center (LIFC) is to provide high quality service to all of our partner agencies in the most efficient and cost-effective manner possible while providing for firefighter safety at all times. All actions will be consistent with land and resource management objectives and current incident management direction.


Recorded Message of Fire Restrictions for Camping, Woodcutting, etc.
(541) 947-6259
Fire Area Emergency Closures
News
Level 1 Evacuation Stukel Fire
Monday, October 15th, 2018, 2:47:37 PM PDT
Klamath Falls, Oregon - Fire crews are currently reporting the Stukel Fire at 750 acres, and will continue to build and reinforce line on the fire today. The fire remains active.
Road Closure: Hill road will be closed from Dehlinger Road to the junction of Reeder and Hill Roads for firefighter and public Safety.
Level 1: A Level 1 Evacuation means "BE READY" for potential evacuation.
For more information, please contact Angie Forbes at 541-219-515. Or get our most recent updates online at https://scofmp.blogspot.com/, on Facebook at facebook.com/SCOFMPFireInfo and on Twitter at @SCOFMPFireInfo.
Fire Restrictions in South Central Oregon lifted at midnight
Monday, October 1st, 2018, 3:20:42 PM PDT
Lakeview, Oregon - The South Central Oregon Fire Management Partnership (SCOFMP) will be lifting all Public Use Restrictions and the Klamath-Lake District Oregon Department of Forestry will also be terminating their Regulated Use Closures as of midnight October 1st, 2018.
SCOFMP managers will be dropping the Adjective Class to "Moderate" fire danger and reducing the Industrial Fire Precaution Level (IFPL) to I for the Fremont-Winmena National Forest, Lakeview District Bureau of Land Management, Sheldon-Hart Mountain NWR Complex, and the Klamath-Lake District Oregon Department of Forestry lands at the same time.
The decision to transition to IFPL I and lift all Public Use Restrictions and Regulated Use Closures was made based on current temperatures, relative humidity, fuel moisture levels, and projected weather conditions over the coming weeks. The public is reminded that we are still in fire season. Conditions will continue to be extremely dry until there is significant precipitation. Please continue to be vigilant and use caution when recreating on public and private lands.
The Fire Area Emergency Closure Order Number 06-02-03-18-01-04 for the Watson Creek Fire on the Fremont-Winema National Forest remains in effect at this time. Get the most recent updates online on Facebook at facebookcom/SCOFMPFireInfo and on Twitter at @SCOFMPFireInfo.
Watson Creek Fire Closure Reduced. Additional Recreation Sites Reopened
Friday, September 14th, 2018, 10:13:04 AM PDT
Lakeview, Oregon - Last night the Watson Creek Fire emergency closure area on the Paisley Ranger District of the Fremont-Winema National Forest was modified, shrinking closer to the fire perimeter and allowing several popular recreation sites to reopen in time for the weekend.
The majority of the roads making up the new closure order boundary are open, with the exception of Forest Roads 28 and 3380 in the northwest corner and Forest Road 33-012 on the eastern side of the closure area. All roads within the closure order boundary are closed, including Forest Road 28 from the intersection with Forest Road 29, south to the intersection with Forest Road 3411 just north of Ingram Guard Station. The area inside the closure is still extremely dangerous and unsafe with active fire burning trees and falling snags. While the fire is contained, full control will not be possible until winter snows start.
Public choosing to recreate in this part of the Paisley Ranger District are advised to be aware of continued traffic by wildland firefighters, as well as other large equipment operating in the area. Popular recreation areas, including Deadhorse and Campbell Lake Campgrounds are once again open. Withers Lake, Hanan/Sycan Campground and Trailhead, Bald Butte Lookout, and the Bear Creek and Hanan/Coffeepot Trailheads are among the areas that remain closed. It should be noted that the closure applies to National Forest Systems lands. Private property within the area can still be accessed by the landowners.
The closure is formally referenced as Order Number 06-02-03-18-02-04 and will be lifted when conditions allow or December 1, 2018, whichever occurs first. Violations of the closure order are punishable by a fine of not more than $5,000 for an individual or $10,000 for an organization, or imprisonment of not more than 6 months or both.
Even though temperatures are dropping and humidity levels are going up, it is still fire season. Forest visitors are asked to be careful with anything that can throw a spark or ignite a fire in the forest. For those who choose to have a campfire while enjoying the forest, please make sure the fire is dead out, with water stirred in and no heat remaining. Abandoned campfires can linger and embers can ignite wildfires.
FOR MORE INFORMATION ON THE FREMONT-WINEMA NATIONAL FOREST, VISIT: www.fs.usda.gov/fremont-winema . Follow the Forest on Tiwtter @FremontWinemaNF or on Facebook at www.facebook.com/R6FWNF
Specific fire locations and other information can be found on the LIFC Incidents Information Report
NIFC National Fire News
Large Incident Information - InciWeb