SCOFMP & LIFC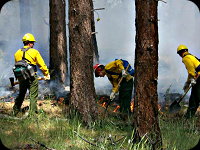 The South Central Oregon Fire Management Partnership is an interagency fire management program that provides comprehensive wildland fire service to south central Oregon and northwest Nevada.
The partnership strives to achieve a more efficient, effective and integrated interagency fire management program for all participating agencies on the land administered and protected by each agency. Dispatching is performed by the Lakeview Interagency Fire Center (LIFC).

Mission Statement
The mission for Lakeview Interagency Fire Center (LIFC) is to provide high quality service to all of our partner agencies in the most efficient and cost-effective manner possible while providing for firefighter safety at all times. All actions will be consistent with land and resource management objectives and current incident management direction.


Recorded Message of Fire Restrictions for Camping, Woodcutting, etc.
(541) 947-6259
News
Fire danger reducing and restrictions lifted in south central Oregon
Tuesday, September 20th, 2016, 3:59:34 PM PDT
Lakeview, Oregon - LAKEVIEW, Ore. – As of this morning, the fire danger had been reduced from "extreme" to "high", the Industrial Fire Precaution Level (IFPL) was reduced to Level 2 on lands under the South Central Oregon Fire Management Partnership (SCOFMP) and Public Use Restrictions were lifted in several areas. The IFPL affects lands administered by the Fremont-Winema National Forest, the Bureau of Land Management (BLM) Lakeview District and the U.S. Fish and Wildlife Service at Sheldon-Hart Mountain and Klamath Basin National Wildlife Refuge Complexes. The Public Use Restrictions are also lifted on these public lands.
The only Lakeview District BLM lands not included in this are those within the Klamath Falls Resource Area west of Langell Valley. This area is under the protection of the Oregon Department of Forestry (ODF), which remains under regulated use. For information on specific restrictions in areas under ODF's fire protection, please visit http://www.oregon.gov/ODF/Fire/Pages/Restrictions.aspx. Crater Lake National Park remains under Stage 1 Fire Restrictions, prohibiting campfires in the backcountry and restricting campfires and smoking to designated areas. For more information, please visit www.nps.gov/crla and select "Alerts". Personal and commercial woodcutters are allowed to resume operations in accordance with their permit and current IFPL levels. Woodcutters are reminded of their responsibility to stay informed of current IFPLs and all restrictions that apply to activities conducted on public lands. Failure to comply with the fire precautionary requirements may result in a violation notice.
"While the Public Use Restrictions are lifted and the fire danger is decreasing, conditions are still dry," said Interagency Fire Staff Officer Barry Shullanberger. "As people go out to enjoy their public lands – whether it's cutting firewood, hunting, camping or just enjoying the warm weather – we ask that they be careful with anything that can throw a spark and to make sure campfires are completely out and cold to the touch before leaving." Visitors should also be aware of their surroundings and prepared for changing weather conditions as the seasons change. This includes reporting visible smoke that could be from a wildfire. For more information on SCOFMP, please visit www.scofmp.org, on Twitter @scofmpfireinfo or on Facebook at http://facebook.com/scofmpfireinfo. ##
Fall prescribed burning season starting in south central Oregon
Thursday, September 22nd, 2016, 8:18:32 AM PDT
Lakeview, Oregon - LAKEVIEW, Ore. – With the official start of autumn tomorrow morning, the agencies of the South Central Oregon Fire Management Partnership (SCOFMP) are preparing to start prescribed burning operations. The first agency expected to begin prescribed fire treatments is the Fremont-Winema National Forest, on a unit located between Chiloquin and Chemult, west of Highway 97. Fire management staff on the Chiloquin and Chemult Ranger Districts are looking at treating the area as early as this weekend, conditions permitting. The public may notice smoke on public lands throughout the SCOFMP area in Lake and Klamath counties during the next few months. Prescribed burning is part of the continued commitment to protect communities and natural resources from wildfires. Treatments range from burning piles remaining after mechanical fuel reduction projects to broadcast underburning on the forest floor.
Visitors are asked to be aware of their surroundings and watch for prescribed burning operations to maintain personal safety. Areas where prescribed burning operations are taking place will be well signed and there will be increased fire personnel in the area. If visitors are uncertain, they are encouraged to visit the SCOFMP website at www.scofmp.org and selecting the prescribed fire link on the left side to see planned operations for the day. As temperatures decrease, humidity levels increase and even a few wet fall storms move in, there is an opportunity to bring fire into the forest in a controlled setting. Prescribed fires are used to clear the forest floor of small fuels and brush without burning or killing large trees. The SCOFMP agencies – the Fremont-Winema National Forest, Bureau of Land Management Lakeview District, Crater Lake National Park, Sheldon-Hart Mountain and Klamath Basin National Wildlife Refuge Complexes and the Oregon Department of Forestry – work together on their landscapes and, as opportunities allow, with adjacent landowners to improve wildland and forest health. Prescribed burns are conducted when there is a window of opportunity and specific conditions and criteria are met before, and will be sustained, during and after the burn. These include temperature, wind conditions, relative humidity and fuel moisture levels. The agencies also takes air quality into consideration.
"Prescribed burning is an important tool for the Forest to use for hazardous fuels reduction and forest health improvement, including wildlife habitat," said Interagency Fire Staff Officer Barry Shullanberger. "The fires are intended to be slow, low-intensity creeping fires on the landscape. Although there are only a few opportunities for prescribed burns, they produce less smoke and there aren't the resource impacts typically created by large wildfires." The fall prescribed burning season lasts as long as weather permits. The burning operations are monitored and patrolled frequently to ensure public safety. Prescribed burning announcements will be placed at local ranger stations and federal offices prior to ignition. SCOFMP employees are committed to a safe and successful prescribed burning season for both the public and employees. For more information on SCOFMP, please visit www.scofmp.org, on Twitter @scofmpfireinfo or on Facebook at http://facebook.com/scofmpfireinfo
Specific fire locations and other information can be found on the LIFC Incidents Information Report
NIFC National Fire News
Large Incident Information - InciWeb