SCOFMP & LIFC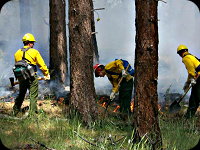 The South Central Oregon Fire Management Partnership is an interagency fire management program that provides comprehensive wildland fire service to south central Oregon and northwest Nevada.
The partnership strives to achieve a more efficient, effective and integrated interagency fire management program for all participating agencies on the land administered and protected by each agency. Dispatching is performed by the Lakeview Interagency Fire Center (LIFC).

Mission Statement
The mission for Lakeview Interagency Fire Center (LIFC) is to provide high quality service to all of our partner agencies in the most efficient and cost-effective manner possible while providing for firefighter safety at all times. All actions will be consistent with land and resource management objectives and current incident management direction.


Recorded Message of Fire Restrictions for Camping, Woodcutting, etc.
(541) 947-6259
News
2018 Fire Season Goes Into Effect
Monday, June 4th, 2018, 1:40:20 PM PDT
Lakeview, Oregon - Present warming and drying weather conditions have prompted fire officials in Klamath and Lake Counties to declare fire season beginning Friday, June 8th, 2018 at 1201 A.M. on lands protected by the Klamath-Lake District, Oregon Department of Forestry. This affects all private, county, and state forest lands, as well as those Bureau of Land Management (BLM) lands west of the Gerber Reservoir Area in the Klamath County.
"the visual "green-up" of live vegetation, cooler temperatures and cloudiness with periods of rainy weather this late spring have masked the dry conditions in the wildland fuels," stated Randall Baley, Protection Unit Forester Oregon Department of Forestry. "the current warm and dry weather with even warmer temperatures forecasted going into mid June will dry out the fuels rapidly to warrant starting fire season at this time."
The "Fire Season in effect" declaration puts into place regulations restricting debris burning and timber harvest operations. Wildland and structural fire protection agencies in Klamath County have agreed to prohibit all outdoor debris burning. Forest operations that require a Permit to Operate Power Driven Machinery now are required to have fire tools, on-site water supply, and watchman service on privately owned forest land. Declaring "Fire Season" also prohibits the release of sky lanterns, the discharge of exploding targets or the discharge of tracer ammunition during this period.
In addition the "Declaration of Fire Season", ODF and Klamath Resource Area (BLM) will be placing the Klamath River Canyon area from the Keno Dam, downstream to the Oregon/California border in a "Regulated Closure". Under this Regulated Closure is is unlawful to be in violation of the following requirements and restrictions: >p> Possession of the following firefighting equipment is required while traveling except on state highways, county roads and driveways: one axe, one shovel, and one gallon of water of 2 1/2 pound or larger fire extinguisher.
Smoking is prohibited while traveling, except in vehicles on improved roads.
Open fires are prohibited, including campfires, charcoal fires, cooking and warming fires. Portable cooking stoves using liquefied or bottled fuels are allowed.
Chain saw use is prohibited, between the hours of 1:00pm and 8:00pm.
Use of fireworks is prohibited.
The Klamath River Canyon has been placed under this Regulated Closure due to its lower elevation, drier fuels, and steep terrain. The Klamath-Lake District website [http://www.oregon.gov/ODF/pages/field/kl/aboutklamathlake.aspx] is available to assist in keeping people informed of current and changing conditions for our area.
Spring Prescribed Fire Season starting in South Central Oregon
Tuesday, February 9th, 2018, 8:41:32 AM PST
Lakeview, Oregon - The current spring-like weather is opening a window for fire managers on the Fremont-Winema National Forest, Bureau of Land Management (BLM) Lakeview Dsitrict and U.S. Fish and Wildlife Service (USFWS) Sheldon-Hart Mountain National Wildlife Refuge Complexes to get an early start on spring prescribed burning.
While conditions allow, including warmer temperatures, reduced snow pack, increased humidity and favorable winds for smoke management, firefighters will be shifting from pile burning to applying fire to the forest floor.
Area residents and visitors may notice smoke on public lands in various areas during the next few months as part of the continued commitment to protect communities and natural resources from wildfires.
"We have a rare opportunity right now to make progress on fuel reduction projects, including prescribed burning," said Interagency Fire Management Officer Barry Shullanberger. "The hope is winter conditions will return in the coming weeks to help build the snowpack, but in the meantime we want to apply fire to the landscape to reduce hazardous fuels which can contribute to larger wildfires during the summer fire season."
Prescribed burns are a proactive tool used to achieve a number of purposes, including the reduction of hazardous fuels - which can be grasses, small shrubs and trees. Reducing hazardous fuels helps to decrease the threat of high-intensity, severe wildfires, improve forest health and recycle nutrients into soil.
Prescribed burning only occurs on days when the Oregon Department of Forestry Smoke Management Office indicates there are suitable weather conditions for smoke dispersal. Following that approval, if overall and humidity conditions are favorable firefighters ignite a test fire before moving forwards with the prescribed burn. If the test fire indicates conditions are not within range, the prescribed burn will be postponed until conditions improve. Burning operations are monitored and patrolled frequently to ensure public safety.
Areas planned for treatment during the Spring 2018 Prescribed Burning Season include:
FREMONT-WINEMA NATIONAL FOREST
Bly Ranger District: Inofrmation: 541-353-2427
Juniper Mountain, 2000 acres, located 20 miles southeast of Bly, OR, near Strawberry Mountain.
West Spodue, 1000 acres, located 15 miles North of Beatty, Visible from Hwy 140.
Long, 1000 acres, Located 15 miles east of Bly, OR, Near Coleman Rim.
Pilot, 500 acres, located 15 miles east of Bly, OR, near Deming Creek.
Bly Ridge, 750 acres, located 6 miles west of Bly, OR, visible from Hwy 140.
Chemult Ranger District: Information: 541-365-7001
Chemult WUI, 1000 acres, Perimeter around Chemult, OR.
Jack, 350 acres, located 12 miles east of Chemult, OR, off FS rd 88.
Chiloquin Ranger District: Information: 541-783-4001
Ninemile, 1200 acres, located 5 miles east of Chiloquin, OR. Visible from Hwy 97 and the Sprague River Road.
Klamath Ranger District: Information: 541-885-3410
Raccoon, 235 acres, located 23 miles NW of Klamath Falls along Hwy 140 near the Odessa area.
Tomahawk, 342 acres, located 29 miles NW of Klamath Falls along Hwy 140 near base of Seldom hill.
Lakeview Ranger District: Information: 541-947-3334
Burnt Willow, 500 acres, located 6 miles east of Lakeview.
West Drews, 1000 acres, located 6 miles west of Drews Reservoir.
Winter Rim Zone: Information: 541-947-3114
Coyote, 500 acres, located 25 miles southwest of Silver Lake, west of Sycan Marsh.
Brattain Ridge, 1600 acres, located 17 miles south of Silver Lake, north of Sycan Marsh.
Deuce, 1300 acres, located 14 miles southwest of Paisley near Coffee Pot Flat.
BLM-LAKEVIEW DISTRICT
Lakeview Resource Area: Information: 541-947-2177
South Warner, 750 acres, located 20 miles east (visible from Hwy 140 near Adel, OR)
Klamath Falls Resource Area: Information: 541-883-6916
Hand piles, 138 acres, loacted 10 miles south (in-between Keno & Warden, OR)
U.S. FISH AND WILDLIFE
Sheldon/Hart National Wildlife Refuges: Information: 541-947-3315
Indian Spring Meadow, 192 acres, located at Hart Mountain National Antelope Refuge 8-10 miles east of Plush.
Hot Springs Campground, 30 acres, located at Hart Mountain National Antelope Refuge 8-10 miles east of Plush.
Information on prescribed burning operations in the area can also be found at www.scofmp.org/lifce.shtml, on the South Central Oregon Fire Management Partnership Facebook page at www.facebook.com/scofmpfireinfo and on twitter @scofmpfireinfo.
Specific fire locations and other information can be found on the LIFC Incidents Information Report
NIFC National Fire News
Large Incident Information - InciWeb