SCOFMP & LIFC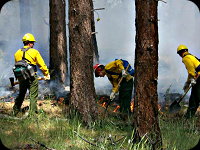 The South Central Oregon Fire Management Partnership is an interagency fire management program that provides comprehensive wildland fire service to south central Oregon and northwest Nevada.
The partnership strives to achieve a more efficient, effective and integrated interagency fire management program for all participating agencies on the land administered and protected by each agency. Dispatching is performed by the Lakeview Interagency Fire Center (LIFC).

Mission Statement
The mission for Lakeview Interagency Fire Center (LIFC) is to provide high quality service to all of our partner agencies in the most efficient and cost-effective manner possible while providing for firefighter safety at all times. All actions will be consistent with land and resource management objectives and current incident management direction.


Recorded Message of Fire Restrictions for Camping, Woodcutting, etc.
(541) 947-6259
News
Fire Season Ends
Thursday, October 19th, 2017, 11:18:08 AM PDT
Klamath Falls, Oregon - Klamath and Lake Counties' 2017 Fire season is officially ending Friday, October 20,2017 at 12:01 am. "Fire Season" for the area has been in effect since June 5th. During the 2017 season, the Klamath-Lake District has documented 129 fires that burned approximately 1937 acres on ODF protected lands. For the ODF Klamath-Lake, just about half of the total numbers of fire starts came from numerous summer lightning storm events. The other half were human caused ignitions.
Fire managers from the Klamath-Lake District, Oregon Department of Forestry (ODF), in cooperation with other local wildland fire agencies and structural fire departments, would like to remind the public that just because fire season has been terminated, fire starts and spread may still occur under the right conditions. Please Continue to use fire safe practices all year-round.
The ban on Open Debris burning in Klamath and Lake Counties is being lifted. Check with your local rural structural fire district for burning and permit regulations within their districts and ALSO the county health departments for the air quality restrictions.
Debris Burning Reminders are as follows:
Burn only during daylight hours.
Burn in cleared areas.
Burn in "no wind" conditions (0-7 mph).
Burn only when you are meeting the Air Quality guidlines.
Burning of large slash piles should be delayed until more moisture has hit the area.
Burn only when a responsible person can be in attendance with a shovel and water supply.
Landowners need to remember that any burning escaping their control is their liability and could be billed for any fire suppression costs. Be cautions, be fire safe.
The Oregon Department of Forestry, Klamath-Lake District, do not issue ore require burn permists on lands solely protected by them when fire season is not in effect. Please be aware that a PDM is still required for all harvest activity burning.
Specific fire locations and other information can be found on the LIFC Incidents Information Report
NIFC National Fire News
Large Incident Information - InciWeb