SCOFMP & LIFC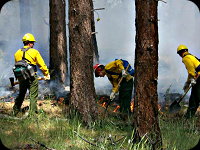 The South Central Oregon Fire Management Partnership is an interagency fire management program that provides comprehensive wildland fire service to south central Oregon and northwest Nevada.
The partnership strives to achieve a more efficient, effective and integrated interagency fire management program for all participating agencies on the land administered and protected by each agency. Dispatching is performed by the Lakeview Interagency Fire Center (LIFC).

Mission Statement
The mission for Lakeview Interagency Fire Center (LIFC) is to provide high quality service to all of our partner agencies in the most efficient and cost-effective manner possible while providing for firefighter safety at all times. All actions will be consistent with land and resource management objectives and current incident management direction.


Recorded Message of Fire Restrictions for Camping, Woodcutting, etc.
(541) 947-6259
Fire Area Emergency Closures
News
SCOFMP Declares Fire Season
Friday, June 3rd, 2022, 2:51:57 PM PDT
Lakeview, Oregon - LAKEVIEW, ORE. - Spring weather brought much needed moisture to South Central Oregon. However, drought conditions remain across the landscape. As a result, fire managers will declare fire season in Klamath and Lake Counties starting Monday, June 6, 2022, at 1201 a.m. Walker Range Fire Patrol Association will go into fire season as well.
Remember that abandoned campfires are the number one source of human-caused wildfires on public lands. Most campfires stay small and are easy for firefighters to put out, but it only takes one to threaten lives, destroy property, and change a beautiful area forever. Escaped debris burning remains the largest source of human caused fires on private land. With the declaration of fire season, all burning is prohibited without a permit. With the lack of winter precipitation, this is a good time to check any piles that were burned during the winter to make sure they are fully extinguished and won't cause a wildfire later this summer.
With an early start to fire season, drought conditions, hot temperatures, and winds, it does not take much of a spark or heat to start a fire that can grow several acres in minutes.
Fire danger level will be MODERATE, and the Industrial Fire Precaution Level (IFPL) will be I.
Moderate Fire Danger means:
- Fires can start from most accidental causes, but with the exception of lightning fires in some areas, the number of starts is generally low.
- Fires in open-cured grassland will burn briskly and spread rapidly on windy days. Wood fires spread slowly to moderately fast.
- The average fire is of moderate intensity, although heavy concentrations of fuel, especially draped fuel, may burn hot. Short-distance spotting may occur but is not persistent.
-Fires are not likely to become serious, and control is relatively easy.
- IFPL I: Closed Season - Fire precaution requirements are in effect. A Fire Watch is required at this and all higher levels unless otherwise waived.
- Fire extinguisher and shovel must be with each chainsaw
- Fire extinguishers must be in all vehicles
- Chainsaws must have a .023-inch mesh screen installed in the exhaust
- Approved spark arresters must be on all internal combustion engines
- Watchmen service must be provided for 1 hour after shutdown of power equipment for the day unless otherwise specified
- No smoking is permitted while working or traveling through any operations area on public land except while in enclosed vehicles
- Permits to burn are required unless waived in advance
Whether accidental or intentional, people start wildfires every year in south central Oregon. These wildfires cost hundreds of thousands of dollars to suppress and endanger lives and our natural resources. Let us all do our part to protect these places we live by being diligent with our ignitions and leaving all fireworks at home.
For more information and current fire restrictions, visit www.scofmp.org/
Specific fire locations and other information can be found on the LIFC Incidents Information Report
NIFC National Fire News
Large Incident Information - InciWeb