SCOFMP & LIFC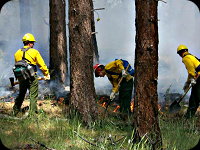 The South Central Oregon Fire Management Partnership is an interagency fire management program that provides comprehensive wildland fire service to south central Oregon and northwest Nevada.
The partnership strives to achieve a more efficient, effective and integrated interagency fire management program for all participating agencies on the land administered and protected by each agency. Dispatching is performed by the Lakeview Interagency Fire Center (LIFC).

Mission Statement
The mission for Lakeview Interagency Fire Center (LIFC) is to provide high quality service to all of our partner agencies in the most efficient and cost-effective manner possible while providing for firefighter safety at all times. All actions will be consistent with land and resource management objectives and current incident management direction.


Recorded Message of Fire Restrictions for Camping, Woodcutting, etc.
(541) 947-6259
Fire Area Emergency Closures
News
SCOFMP increases Fire Danger Level to High and IFPL to II
Thursday, July 9th, 2020, 12:00:00 PM PDT
Lakeview, Oregon - Continued hot and dry weather has prompted fire managers on public lands in south central Oregon to raise the fire danger level to HIGH and the Industrial Fire Precaution Level (IFPL) to II, beginning Friday, July 10, 2020, at 12:01 a.m.
High Fire Danger means: All fine dead fuels ignite readily, and fires start easily from any cause. Unattended brush and campfires are likely to escape. Fires spread rapidly, and short-distance spotting is common. High-intensity burning may develop on slopes, or in concentrations of fine fuel. Fires may become serious and their control difficult unless they are hit hard and fast while small.
IFPL II means the following may operate only between the hours of 8 p.m. and 1 p.m. local time (no operation between 1 p.m. and 8 p.m.): Power saws except at loading sites, cable yarding, lasting, and welding or cutting metal.
Remember that on public lands, abandoned campfires are the number one source of human-caused wildfires. Most of these campfires stay small and are easy for firefighters to put out, but it only takes one to threaten lives, destroy property, and change a beautiful area forever.
Whether accidental or intentional, people start wildfires every year in south central Oregon. These wildfires cost hundreds of thousands of dollars to suppress and endanger lives and our natural resources. Let us all do our part to protect these places we live by being diligent with our ignitions and leaving all fireworks at home.
For more information and current fire restrictions, visit www.scofmp.org/
2020 Fire Season Goes Into Effect in Klamath and Lake Counties
Wednesday, May 27th, 2020, 12:00:00 PM PDT
Lakeview, Oregon - Fire officials in Klamath and Lake Counties will officially declare fire season beginning Monday, June 1, 2020 at 12:01 A.M. on lands protected by the Oregon Department of Forestry (ODF) Klamath-Lake District and Walker Range Fire Patrol Association. This affects all private, county, and state forestlands.
"We've hit that time of year when temperatures will start to dry out vegetation quickly and all fires have the potential to cause significant damage. We need to curtail burning and make sure the public is aware of the dangers so we can minimize that potential from human-caused fires," stated Dennis Lee, District Forester, Oregon Department of Forestry.
The "Fire Season in effect" declaration puts into place regulations restricting debris burning and timber harvest operations. Wildland and structural fire protection agencies in Klamath County have agreed to prohibit all outdoor debris burning. Forest operations that require a Permit to Operate Power Driven Machinery now are required to have fire tools, on-site water supply, and watchman service on privately owned forestland. Declaring "Fire Season" also prohibits the release of sky lanterns, the discharge of exploding targets or the discharge of tracer ammunition during this period.
The Lakeview Interagency Fire Center website: https://scofmp.org/ is available to assist in keeping people informed of current and changing conditions for our area. Walker Range Fire Patrol Association can be contacted at 541-433-2451.
Additional information on BLM and/or USFS you can call Bureau of Land Management, Lakeview District and the Fremont-Winema National Forest.
Specific fire locations and other information can be found on the LIFC Incidents Information Report
NIFC National Fire News
Large Incident Information - InciWeb