SCOFMP & LIFC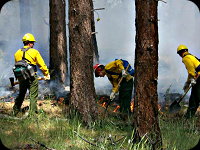 The South Central Oregon Fire Management Partnership is an interagency fire management program that provides comprehensive wildland fire service to south central Oregon and northwest Nevada.
The partnership strives to achieve a more efficient, effective and integrated interagency fire management program for all participating agencies on the land administered and protected by each agency. Dispatching is performed by the Lakeview Interagency Fire Center (LIFC).

Mission Statement
The mission for Lakeview Interagency Fire Center (LIFC) is to provide high quality service to all of our partner agencies in the most efficient and cost-effective manner possible while providing for firefighter safety at all times. All actions will be consistent with land and resource management objectives and current incident management direction.


Recorded Message of Fire Restrictions for Camping, Woodcutting, etc.
(541) 947-6259
Fire Area Emergency Closures
News
KLAMATH COUNTY BURN BAN BEGINS APRIL 17, 2021
Friday, April 16th, 2021, 3:35:28 PM PDT
Lakeview, Oregon - Wildfires and their impact on the wildland/urban interface, are a major concern throughout Oregon. Within the boundaries of Klamath County, we are not immune from the threat of wildfire. Because we live, work, and play in an area susceptible to wildfire we ask each homeowner to do their part in properly protecting your home from the threat of wildfire. By doing your part you are helping make the entire community safer.
In coordination with the Oregon Department of Forestry and the Klamath County Air Quality beginning today, April 17, 2021, Klamath County Fire District 1 has enacted a High-Fire Danger Burn Ban within the Fire District's Boundaries. This includes the area within the City Limits of Klamath Falls and the Suburban areas.
Please visit the following site for a detailed map of the Fire District: https://kcfd1.com/fire-stations
THE BURN BAN PROHIBITS ALL OF THE FOLLOWING:
1. All backyard or open burning (branches, yard debris, etc.).
2. All commercial and agricultural open burning (agricultural wastes, crops, field burning, etc.).
3. All other land clearing, slash, waste, or debris burning.
Outdoor fires in violation of this burn may be immediately extinguished. If a fire agency is required to respond and be used actively or on a standby basis in connection with the extinguishment or control of a fire that has been started or allowed to spread in willful violation of this burn ban, the person responsible may be liable for the costs incurred by the fire agency in controlling, extinguishing, or patrolling the fire, as well as legal fees per ORS 478.965.
PROCESSES:
What is the process to establish and manage "fire season" within a local Fire Agency/Fire Defense Board/County?
The Fire Chief or the County itself shall prescribe conditions upon which "open burning" permission is granted and which are necessary to be observed in setting the fire and preventing it from spreading and endangering life or property or endangering the air resources of this state.
The Fire Chief or the County itself has the authority to restrict all permitted "open burning" when there is a danger to life or property of another from fire.
Under ORS 476.380 (3) or 478.960(3), the issuance of an "Open Burning" permit by the Fire Chief or the County itself does not relieve the person who the permit was issued to from responsibility for providing adequate protection to prevent injury or damage to the person or property of another. If such burning results in the escape of fire and injury or damage to the person or property of another, such escape and damage or injury constitutes prima facie evidence that the burning was not safe.
Federal agencies have independent jurisdiction and authority to regulate prescribed and recreational fires on their lands, so this ban does not apply to the US Forest Service and BLM regulated lands. Adhering to these precautions is still wise even though not enforceable.
The public will be notified when the burn ban is lifted. Visit https://kcfd1.com/ for more information.
Media Contact:
Battalion Chief Fire Marshal, Chad Tramp. 541-885-2056
Protection Unit Supervisor, Randall Baley. 541-883-5680
Prescribed Fire Season starting in South Central Oregon
Monday, October 19th, 2020, 10:00:00 AM PDT
Lakeview, Oregon - Prescribed fire season has arrived in South Central Oregon, and fire managers on the Fremont-Winema National Forest, Lakeview District Bureau of Land Management, and Sheldon-Hart Mountain National Wildlife Refuge Complex will be applying prescribed fire to the landscape.
Prescribed fire is used by fire managers to improve forest health and wildlife habitat, and to reduce hazardous fuels to minimize the threat of high-intensity, severe wildfires in our area. Applying prescribed fire is a part of our continued commitment to protecting communities and natural resources from wildfires.
Area residents and visitors may notice smoke or fire on public lands in various areas during the next few months. Each prescribed fire can appear different visually depending on the forest type, fuel load, prescribed fire objectives, and how long fire has been absent from the area. Areas, where prescribed fire operations are taking place, will be well signed and may have increased fire personnel, traffic, and smoke in the area. Please stay clear of these areas when possible for public and firefighter safety.
Prescribed fire occurs on days when the Oregon Department of Forestry Smoke Management Office indicates there are suitable weather conditions for smoke dispersal. Following that approval, if overall fuel and weather conditions are favorable, firefighters ignite a test fire before moving forward with the prescribed fire. If the test-fire indicates conditions are not suitable, the prescribed fire will be postponed until conditions improve. All burning operations are monitored and patrolled frequently by fire professionals, to ensure public safety.
All South Central Oregon Fire Management Partnership employees are committed to a safe and successful prescribed fire season for the public and employees within these designated areas.
For more information and current updates, check online at Facebook at facebook.com/SCOFMPFireInfo
Specific fire locations and other information can be found on the LIFC Incidents Information Report
NIFC National Fire News
Large Incident Information - InciWeb