SCOFMP & LIFC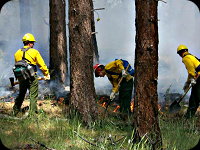 The South Central Oregon Fire Management Partnership is an interagency fire management program that provides comprehensive wildland fire service to south central Oregon and northwest Nevada.
The partnership strives to achieve a more efficient, effective and integrated interagency fire management program for all participating agencies on the land administered and protected by each agency. Dispatching is performed by the Lakeview Interagency Fire Center (LIFC).

Mission Statement
The mission for Lakeview Interagency Fire Center (LIFC) is to provide high quality service to all of our partner agencies in the most efficient and cost-effective manner possible while providing for firefighter safety at all times. All actions will be consistent with land and resource management objectives and current incident management direction.


Recorded Message of Fire Restrictions for Camping, Woodcutting, etc.
(541) 947-6259
News
Spring Prescribed Fire Season starting in South Central Oregon
April 13th, 2017
Lakeview, Oregon - As spring temperatures increase and snow levels begin to recede, but while humidity levels remain high, Fire managers at the South Central Oregon Fire Management Partnership (SCOFMP) will be taking the opportunity to begin prescribed burning.
Area residents and visitors may notice smoke on public lands in various areas during the next few months as part of the continued commitment to protect communities and natural resources from wildfires.
Prescribed burns are a proactive tool used to achieve a number of purposes, including the reduction of hazardous fuels (overgrown vegetation). They can help decrease the threat of high intensity, high-severity wildfires; reduce the risk of insect and disease outbreak; recycle nutrients that increase soil productivity; and improve wildlife habitat.
During the prescribed burning season fire crews also burn piles of wood debris and fuel that are the result of fuel reduction activities in the forest. The spring prescribed burning season lasts as long as weather permits, which may be a few weeks or months, depending on conditions. The burning operations are monitored and patrolled frequently to ensure public safety.
Prescribed burning announcements will be placed at local ranger stations and federal offices prior to ignition. Fremont-Winema National Forest, BLM Lakeview District and Sheldon-Hart Mountain employees are committed to a safe and successful prescribed burning season for both the public and employees.
For more information, please contact Fire Information Officer Sarah Saarloos with the South Central Oregon Fire Management Partnership at 541-219-0515 or ssaarloos@fs.fed.us.
Online prescribed fire information: http://scofmp.org/rx_fire.shtml, Twitter @scofmpfireinfo and SCOFMP Facebook at https://www.facebook.com/scofmpfireinfo/.
Specific fire locations and other information can be found on the LIFC Incidents Information Report
NIFC National Fire News
Large Incident Information - InciWeb