SCOFMP & LIFC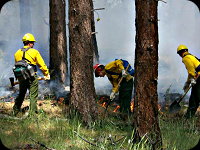 The South Central Oregon Fire Management Partnership is an interagency fire management program that provides comprehensive wildland fire service to south central Oregon and northwest Nevada.
The partnership strives to achieve a more efficient, effective and integrated interagency fire management program for all participating agencies on the land administered and protected by each agency. Dispatching is performed by the Lakeview Interagency Fire Center (LIFC).

Mission Statement
The mission for Lakeview Interagency Fire Center (LIFC) is to provide high quality service to all of our partner agencies in the most efficient and cost-effective manner possible while providing for firefighter safety at all times. All actions will be consistent with land and resource management objectives and current incident management direction.


Recorded Message of Fire Restrictions for Camping, Woodcutting, etc.
(541) 947-6259
Fire Area Emergency Closures
News
2019 Fire Season Goes Into Effect
Friday, June 7th, 2019, 10:58:52 AM PDT
Klamath and Lake Counties, Oregon - Upcoming and forecasted warming and drying weather conditions have prompted fire officials in Klamath and Lake Counties to declare fire season beginning Monday, June 10, 2019 at 12:01 a.m. on lands protected by the Klamath-Lake District, Oregon Department of Forestry and the Walker Range Forest Patrol Association. This affects all private, county, and state forest lands, as well as those Bureau of Land Management (BLM) lands west of the Gerber Reservoir Area in Klamath County.
"The visual and later "green-up" of live vegetation, cooler temperatures and cloudiness with periods of rainy weather this late spring have allowed us to get a deeper into June official start," stated Randall Baley, Protection Unit Forester, Oregon Department of Forestry. "The forecasted warm and dry weather with even warmer temperatures forecasted going into later June will dry out the fuels rapidly to warrant starting fire season at this time."
The "Fire Season in effect" declaration puts into place regulations restricting debris burning and timber harvest operations. Wildland and structural fire protection agencies in Klamath County have agreed to prohibit all outdoor debris burning. Forest operations that require a Permit to Operate Power Driven Machinery now are required to have fire tools, on-site water supply, and watchman service on privately owned forestland. Declaring "Fire Season" also prohibits the release of sky lanterns, the discharge of exploding targets or the discharge of tracer ammunition during this period.
In addition to the "Declaration of Fire Season", ODF will be placing the private lands within the Klamath River Canyon area from Keno to the State Line in a "Regulated Closure". The closure stipulates the following:
1) Possession of the following fire-fighting equipment is required while travelling in the forest, except on state and county roads: an axe, a shovel, and one gallon of water or one 2.5 pound or larger fire extinguisher.
*** "Axe" means a wood cutting tool having a handle of not less than 26 inches in length and a head weight of not less than 2 pounds.
*** "Shovel" means a digging tool having a handle not less than 26 inches in length and a blade of not less than 8 inches in width.
2) Smoking in wildland areas is permitted only in enclosed vehicles on roads. Smoking is prohibited while working or traveling in an industrial operation area.
3) Open fires, including campfires, charcoal fires, cooking fires and warming fires, are permitted only at posted and designated sites.
4) Non-Industrial chainsaw usage is prohibited between 1 p.m. and 8 p.m.
5) Fireworks are prohibited within the Closure Area.
The Klamath River Canyon has been placed under this Regulated Closure due to it's lower elevation, drier fuels, and steep terrain.
Upcoming prescribed fire activity on the Fremont-Winema National Forest
Friday, June 7th, 2019, 1:20:47 PM PDT
Lakeview, Oregon - Due to recent wet weather, firefighters are able to resume prescribed fire operations on the Fremont-Winema National Forest as conditions allow.
On the Lakeview Ranger District, work on the West Drews prescribed fire will be continuing starting Saturday, June 8. Located near Forest Road 3940 and Secret Valley, the goal is to treat up to 600 acres. Ignitions could start as early as tomorrow and continue through next Wednesday, depending on wind direction and smoke dispersion. Smoke will be visible for approximately 5 days and is expected to travel to the south.
On the Chemult Ranger District, ignition on the RAC prescribed fire is expected to be on Monday, June 10, conditions permitting. The goal is to treat approximately 500 acres south of Highway 138 between mile posts 95 and 92 around 5 miles west of the Diamond Lake Junction. The area is approximately 10 miles southwest of Chemult.
Prescribed fire is applied by trained wildland firefighters under specific conditions, including temperature, humidity, wind speed and direction, and fuel moisture levels. They occur when the Oregon Department of Forestry Smoke Management Office indicates weather conditions are suitable for smoke dispersal. Smoke will be visible locally and may be visible up to a week after ignition. It is not expected to impact any nearby communities.
Firefighter and public safety are the highest priorities. The public is asked to be aware of their surroundings, use caution and watch for smoke. Those who are sensitive to smoke are encouraged to be aware of current conditions.
Prescribed fires are an important tool used by wildland managers to reduce hazardous fuels in the Wildland Urban Interface (WUI) and from the forest as part of forest restoration efforts. Reducing these fuels reduces the risk of devastating wildfires, as well as assisting with fire suppression efforts during the wildland fire season by moderating fire behavior. These activities also improve wildlife habitat and are part of restoring a healthy, fire-resilient forest.
The Lakeview Interagency Fire Center provides information on prescribed fire activities based on Ranger District. For detailed information visit www.scofmp.org/rx_fire.shtml
Specific fire locations and other information can be found on the LIFC Incidents Information Report
NIFC National Fire News
Large Incident Information - InciWeb